Sarah Jérôme - Collection 1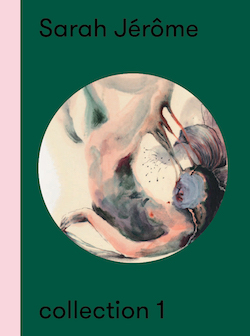 First monograph of the French artist who makes the changing states of the body the territory of her research, between desires and suffering: an object-book not chronological or descriptive, but more oriented towards the intimacy of a creative process, inviting the reader to immerse himself in a pictorial gesture and to plunge into the daily life of a workshop.
The artist : Sarah Jérôme was born in Rennes in 1979, she lives and works in Montreuil. Graduated from the National Conservatory of Dance in Paris in 1998, she made a stint at the Opéra national de Lyon then turned to the visual arts and studied at the National Superior School of Fine Arts in Paris. She draws and paints mainly on tracing paper and works with ceramics. Her work is shown in France, Italy, England, Switzerland, Belgium.
Texts from Richard Leydier and Amélie Adamo
Publication date: 02.12.2020
Bilingual edition: english and french
180 pages
BISAC S.C.: ART016010 : ART / Individual Artists / Artists' Books
Print version
ISBN: 978-2-8216-0135-2
Format: 20 x 24 cm
Public price : 27 euros
The print version is distributed by
les presses du réel
.
D