Louis Vuitton City Guide
Le voyage by Louis Vuitton
iOS application & back office
conception & développement
client : Louis Vuitton Malletier
2019-2021
Feel like travelling? The Louis Vuitton City application covers 34 cities with an unrivalled selection of 15,000 addresses. Louis Vuitton has mixed tried-and-tested favorites with new places and traditional sites with offbeat ones, as long as they express the soul of each city. The best of each metropolis is now within your reach: the most beautiful hotels, the finest chocolate shops, lively neighbourhood bistros, iconic luxury houses, design galleries, hidden museums and much more.
Amsterdam • Arles • Bangkok • Beijing • Berlin • Cape Town • Chengdu • Chicago • Dubai • Hong Kong • Istanbul • London • Los Angeles • Lisbon • Madrid • Mexico City • Miami • Milan • Moscow • New York • Paris • Prague • Reims • Rio de Janeiro • Rome • San Francisco • São Paulo • Seoul • Shanghai • Singapore • Sydney • Taipei • Tokyo • Venice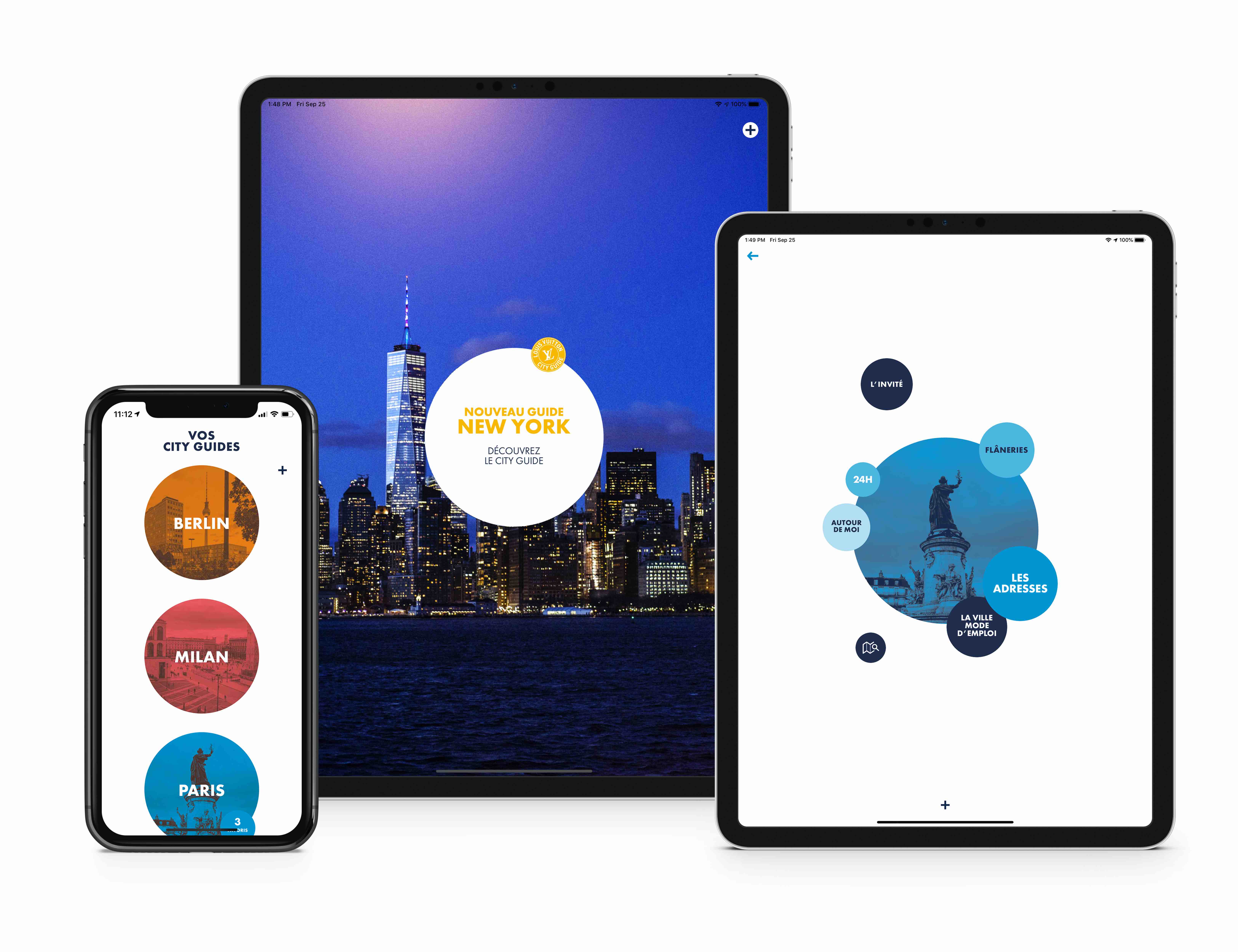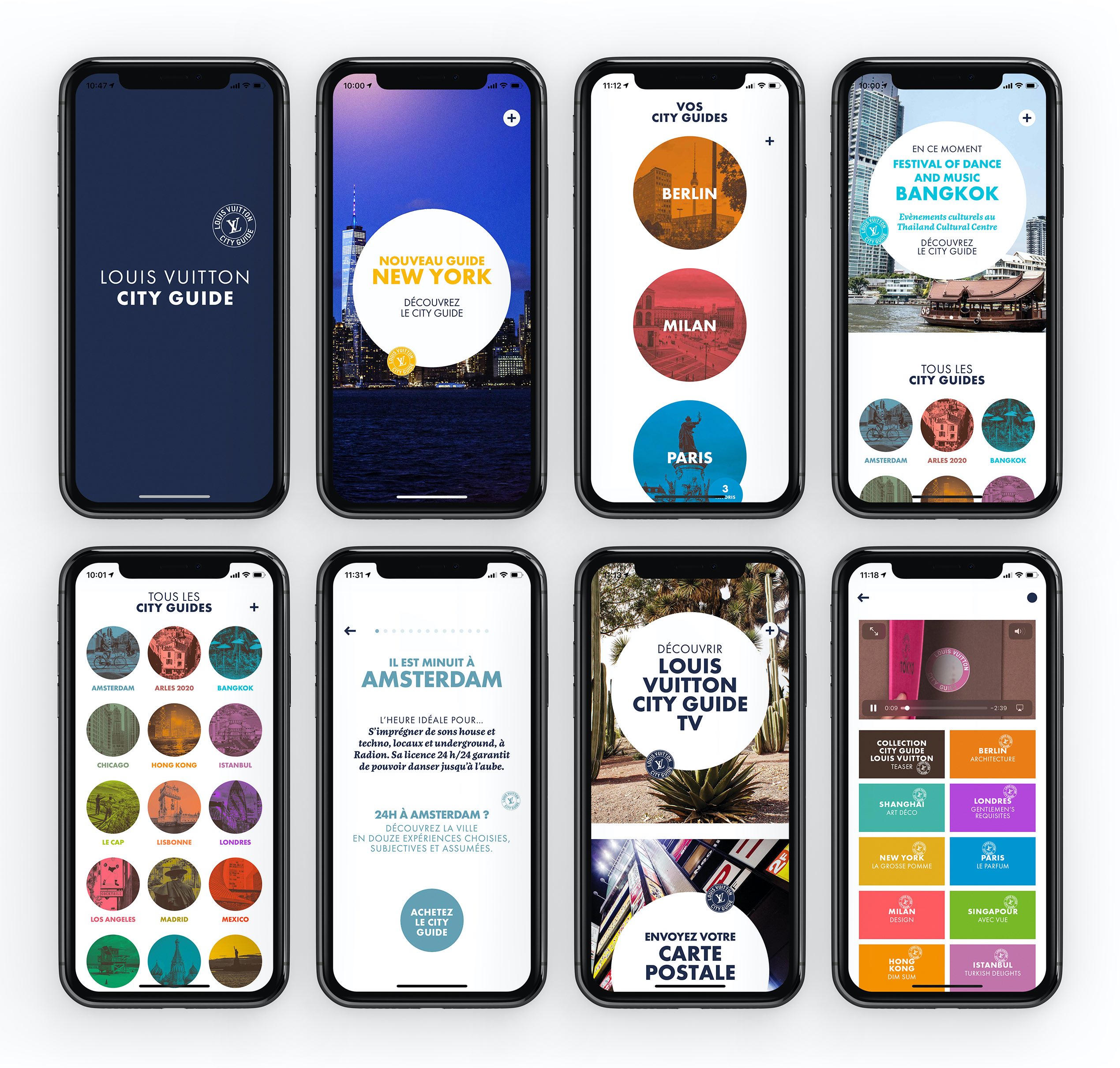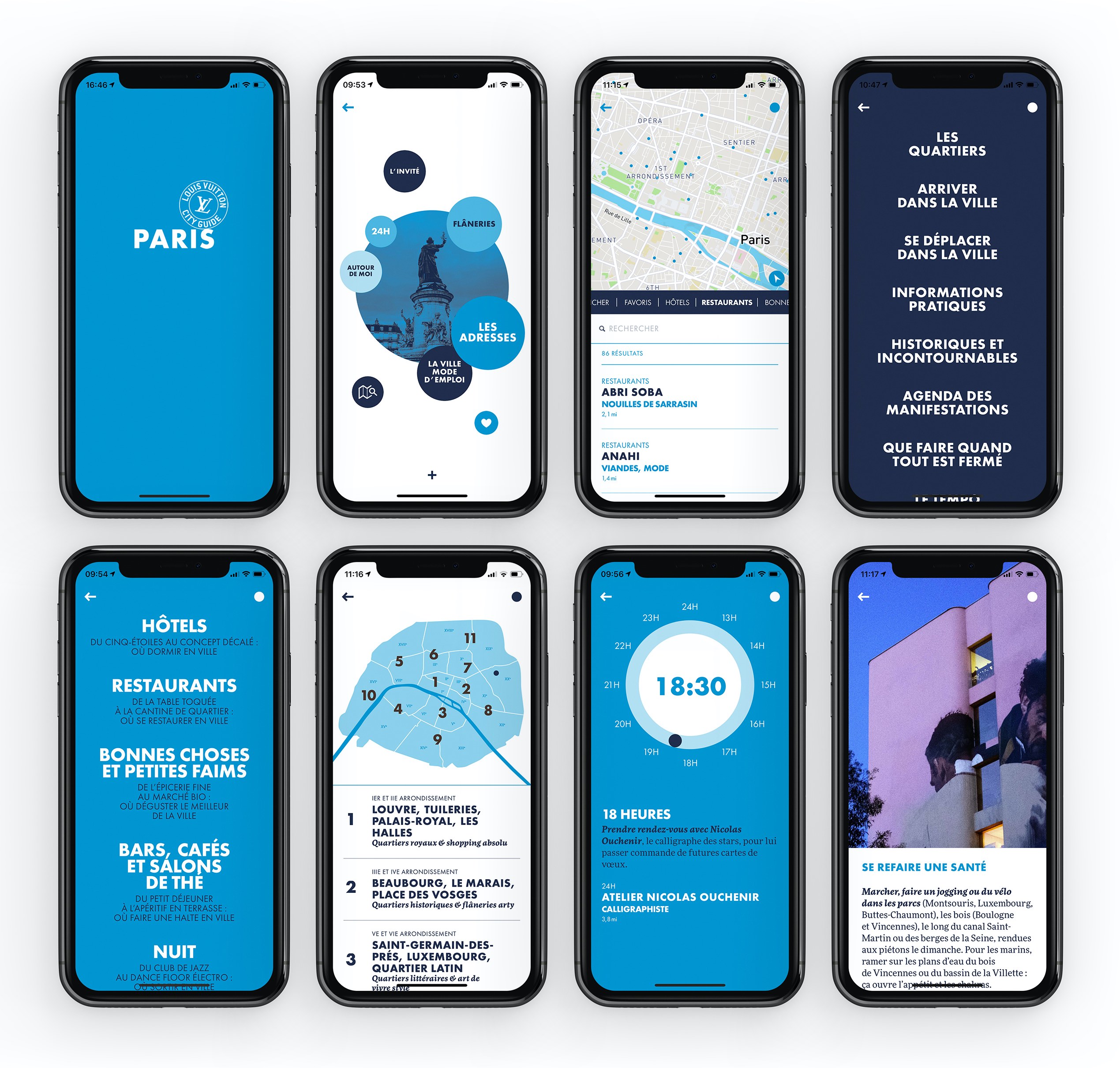 MAIN SECTIONS
Hotels:
from five-stars to offbeat concepts: where to stay in the city.
Restaurants:
from top tables to corner cafés: eating out in the city.
Good things:
from gourmet delis to organic markets: tasting the best of the city.
Bars, cafés and tearooms:
from breakfast to drinks on a terrace: taking a break in the city.
Nightlife:
from jazz clubs to electro dance floors: going out in the city.
A sense of style:
from high fashion to emerging designers: shopping in the city.
Interior cachet:
from quirky antiques shops to contemporary design galleries: the art of living in the city.
Arts and culture:
from major museums to experimental theatres: exploring the city's culture.
24 hours:
Twelve selected experiences that capture the best of the city throughout the day, from breakfast at dawn to sunset.
The Guest:
Each City Guide has its guest. A celebrity or local figure offers his or her personal vision of the city, sharing travel memories and favourite addresses.
Walking Tours:
Each guide includes several self-guided themed walking tours to take you away from the city's hectic pace and anonymous crowds.
The Districts:
The history, architectural style and ambience of the city's quarters and the people who inhabit them.
The Essentials:
Practical information on getting around, events, historical and must-see sights, and how to live like a local, along with suggested books to read, movies to see and songs to listen to before or after your trip.
KEY FEATURES
Free kiosk:
a taste for travel with a selection of free content for each guide and the full catalogue. Free guides are also available thanks to regular special offers.
Address book:
each guide has around 400 regularly updated addresses.
Map:
It's a snap to find any address on these easy-to-read maps, available offline. Users can see all nearby businesses and points of interest, zoom in and refine their results by topic and be shown the way to the establishment they have chosen.
Favourites:
Users create and view their address book of favourites.
Send a postcard:
Send your loved ones a photo from your camera or from the guides' gallery of pictures. Personalise your postcard and share your travel memories by using the filter in the colour of each city.
CityGuide TV:
More than 50 exclusive films to discover the destinations
French, English and Chinese languages loaded.
The 32 guides are available in French and English, and 7 of them are also available in Chinese (London, New York, Paris, Beijing, Rome, Shanghai and Tokyo).
The app is fully accessible offline and benefits from free regular updates.
A back office allows administration of the app and the guides.
TECHNOLOGIES
Swift
proprietary APIs
Firebase / Analytics
SDK Mapbox
Node.js
php
GRAPHIC DESIGN
ABM Studio
PROJECT OWNER SUPPORT
BETC FULLSIX